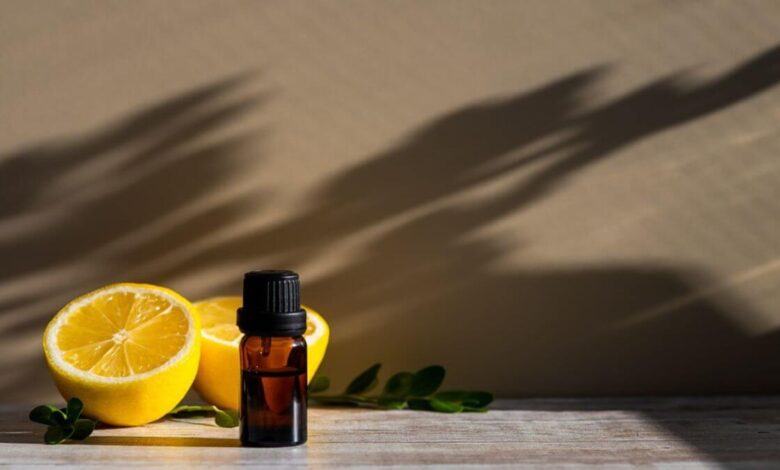 For someone like me, who has dedicated a lot of time to studying skincare, the most pressing issue is discovering how to achieve and sustain a uniform skin tone. Natural remedies have never failed to deliver the desired results. Because of the popularity of essential oils, I wondered if there was any truth to the claim that you could use a lemon essential oil on your skin to make it lighter.
If you want to lighten your skin the natural way, try using an essential oil made from lemon peels. Skin that has been healed with lemon essential oil has been shown to look healthier and more radiant. If you suffer from hyperpigmentation, this is a great option because it can help reduce the appearance of dark patches.
How well this cheat works for you depends heavily on the quality of your oil. Most high-quality essential oils will proudly proclaim, "100% pure essential oil" on the bottle. This method guarantees that you are getting pure oil and not a synthetic substitute.
Skincare Tips for Using Lemon Essential Oil
Since it is so potent, most people dilute lemon essential oil before applying it directly to their skin. Use carrier oil to accomplish this. Carrier oils are a type of base oil used to help keep the skin safe; they typically come from plants.
It's important to remember that when blending essential oils with a carrier oil, the essential oil concentration shouldn't be higher than 2%. This makes sure the oil isn't too potent by diluting it.
If you want to use lemon oil on your skin, it's best to only do spot healing. This means that you can target specific dark areas with your essential oil and carrier oil blend. This concoction can be left on for up to 5 minutes.
Even after using the oil to heal specific areas, the rest of your usual skincare routine must be continued. This entails a thorough cleansing, followed by toning and moisturising the skin.
Alternative Uses for Lemon Essential Oil
Because of all the unconventional applications, using lemon essential oil in your daily life is surprisingly simple. Additionally, you probably already have some lemon oil lying around the house.
Diffusing the essential oil – Researchers have found that using lemon oil in aromatherapy has a profound effect on improving one's disposition. A concentrated version of this oil can also be used to eliminate any lingering odours in your fridge or trash cans.
Utilize as part of your daily skincare routine – This oil is wonderful because it helps with mild exfoliation and contains antibacterial factors, both of which we've already discussed. Because of this, it is an ideal complement to your current skincare regimen for those experiencing acne or hyperpigmentation.
Toss in with your meal – The overall lemon flavour you're going for can be amplified by adding some lemon oil to your food. If you're looking to perk up your water or your next lemon cake, using this oil is a sure bet. Any particular oil you use should be high quality and easily digestible.
As a result of its versatility, lemon oil is a good starting point for anyone interested in essential oils. Until you feel more confident venturing out, lemon oil can meet all of your requirements. Additionally, purchasing premium oil is highly recommended.
Also Read:
Advantages of Applying Lemon Essential Oil to Your Skin
Lemon oil has antibacterial properties and can be used as a mild exfoliant. Acne-prone skin types will benefit greatly from this. Acne and other skin problems can be caused by bacteria that become trapped in your skin's pores; fortunately, the lemon essential oil can help eliminate the bacteria and improve the appearance of your skin.
Acne sufferers can benefit from the antibacterial oil's antiseptic properties, and other wounds can be healed with it as well. This home remedy has antiseptic properties and can be used to keep a wound clean, allowing it to heal more quickly.
Additionally, many people use a lemon essential oil on their skin because it effectively keeps insects away. An effective natural insect repellent can be made by combining lemon oil with carrier oil and some water. Making your own all-natural, chemical-free bug spray is easy with this method.
Given the natural origins of lemon oil, it is an excellent choice for people with sensitive skin. When compared to store-bought alternatives, lemon oil might be less of an irritant when applied topically.
To use lemon oil to lighten skin & how long does it take?
It usually takes at least a week to notice a difference. It usually takes about two weeks before you start seeing noticeable results. Bear in mind that lemon oil only offers gentle exfoliation, so you might have to wait longer for results than with other methods.
This time frame is also susceptible to variation depending on the oils used. High-quality oils can improve performance. Using a mixture instead of pure oil is likely to double the amount of time required to achieve the same results.
The darkness of the areas you intend to brighten is another factor to think about. Because of the length of time, it takes to see results from using the lemon essential oil, it may not be the best choice if you're looking for instant gratification. Be patient and trust that the natural remedies will work.
Bottom Line
If you want to naturally lighten your skin, using lemon essential oil is a great option. Anyone dealing with dark marks would benefit greatly from using this all-natural exfoliant. Remember to dilute the essential oils with carrier oil so you don't cause permanent skin damage.
While using lemon essential oil to lighten your skin, you may have to wait a while before you notice any changes. Results vary from person to person, and you should plan on waiting at least two weeks before starting to see long-lasting effects. Get your hands on some high-quality lemon essential oil if you can.
[
Cautionary note:
 In all of the above cases please consult a practicing specialist & get checked before taking any medicines.]
Disclaimer: This article is only written for basic and general informational purposes only. The Statements contained here have not been evaluated by the FDA and neither the efficacy of these products has been confirmed by FDA-approved research. All information presented here is not meant as a substitute for or alternative to information from health care practitioners. There's no guarantee of specific results and the results can vary. Users must not view the content as medical advice in any way. Users are also required to 'NOT SELF-MEDICATE' and always consult your health care professional before taking any medicines or undergoing any treatment. DivyaAyushCare and the author will not be responsible for any act or omission by the User arising from the User's interpretation of the content.
More Useful Blog: