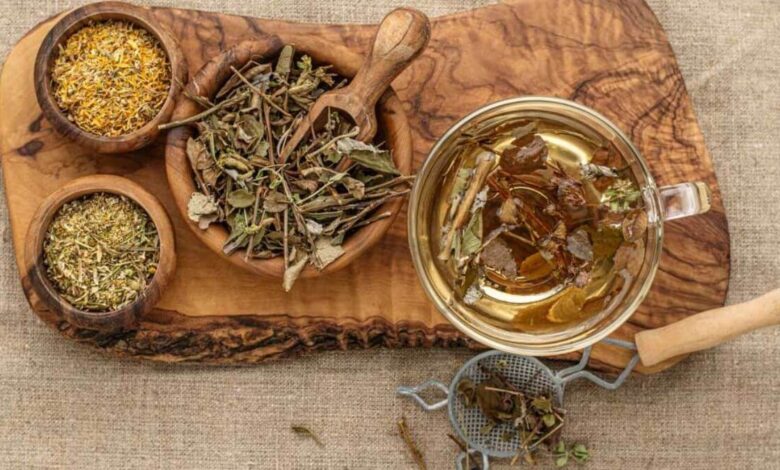 Kabasura Kudineer is a well-tested remedy in Siddha medicine. It has strong anti-inflammatory, anti-viral and antipyretic properties. It is very effective in treating respiratory ailments. This concoction contains 15 herbs that are effective against viral infections, fever, cough, and breathing difficulties. Each of these ingredients works together to combat fever-associated respiratory disease. It builds immunity to fight against pathogens and provides an antioxidant supply to the body. Kabasura Kudineer is used to treat fever accumulated due to Kapha dosha in the body. It comes in different forms like Kabasura Kudineer powder, Kabasura Kudineer syrup, and Kabasura Kudineer choornam. They are all made of similar ingredients in different methods.
Kabasura Kudineer Ingredients:
The key ingredients of Kabasura Kudineer powder are all mixed in equal proportion:
Adathodai
Akkirakaram
Karpura Valli
Kottam
Tippili
Cukku
Ilavankam
Vattatiruppi
Ciru tekku
Nilavembu
Katukkay
Koraikilangu
Cirukancori
Mulli
The key ingredients of kabasura kudineer choornam are:
Ginger
Piper longum
Clove
Dusparsha
Akarakarabha
Kokilaksha
Haritaki
Malabr nut
Ajwain
Kusta
Guduchi
Bharangi
Kalamegha
Raja pata
Musta
Water
Method:
The herbs are dried and ground into a coarse powder. They are usually dried under direct sunlight to remove any moisture. Add water to the dried choornam and heat until the water reduces ¼ of its original quantity. Filter the decoction using muslin to remove residue. This choornam is usually consumed within 3 hours because of its short shelf life.
Benefits of Kabasura Kudineer Ingredients:
Ginger: Helps with digestion and also helps treat asthma and throat related issues.
Piper Longum: It has the properties to treat indigestion, asthma and cough.
Clove: It promotes liver health and kills bacteria.
Dusparsha: Usually used to treat haemorrhoids.
Akarakarabha: Used for healing mouth ulcers, cough and ailments because of Vata dosha.
Kokilaksha: it is a plant that is used frequently. It is valued in Ayurveda for treating urinary infections, abdominal distension, and jaundice.
Haritaki: It has strong anti-inflammatory properties and it helps treat sore throat and allergies. It is also a great source of antioxidants.
Malabar nut: Used for treating upper respiratory problems and asthma
Ajwain: Helps with common cough and cold.
Kusta: It is used to treat gout and other respiratory ailments.
Guduchi: It has properties that help reduce fever.
Bharangi: An herb used to treat asthma and other respiratory inflammations.
Kalamegha: Used to cleanse and purify the blood and liver.
Raja Pata: An herb used to cure fever and intestinal worms.
Musta: This herb eases burning sensation and reduces fevers.
Kabasura Kudineer Benefits:
Antipyretic: Kabasura Kudineer reduces fever.
Analgesic: It relieves body pain and headaches.
Antitussive: It relieves cough by ensuring the phlegm congested in the respiratory tract is expelled from the body.
Anti-inflammatory: Relieves breathing difficulties by controlling lung and tract inflammations.
Immunostimulatory: Promotes better function of the immune system by helping the body fight against pathogens.
Kabasura Kudineer Uses:
Kabasura Kudineer can be used to manage different types of fevers and flu that cause respiratory complications.
Kabasura Kudineer has been used in the management of the Swine Flu outbreak that took place. Many Siddha and Ayurveda practitioners had prescribed it during the outbreak for prevention and reduction of symptoms.
Kabasura Kudineer was also widely used in India during the most recent pandemic of Covid-19. It is shown to have reduced symptoms and provided relief with respiratory ailments. It also increased immunity and helped many people battle the symptoms of Covid-19.
Helps promote better digestion ensuring that the body has enough energy to deal with the pathogens.
It has anti-inflammatory properties which relieve body aches, headaches as well as respiratory difficulties.
Side Effects of Kabasura Kudineer:
There are no known side effects of Kabasura Kudineer. This is an organic and safe concoction to consume even taken with allopathy or homeopathic medicine. It is also safe to consume Kabasura Kudineer with supplements and multivitamins.
[
Cautionary note:
In all of the above cases please consult a practicing specialist & get checked before taking any medicines.]
Disclaimer: This article is only written for informational purposes only. Users must not view the content as medical advice in any way. Users are also required to 'NOT SELF MEDICATE' and always consult a practicing specialist before taking any medicines or undergoing any treatment. DivyaAyushCare and the author will not be responsible for any act or omission by the User arising from the User's interpretation of the content.
Also Read: