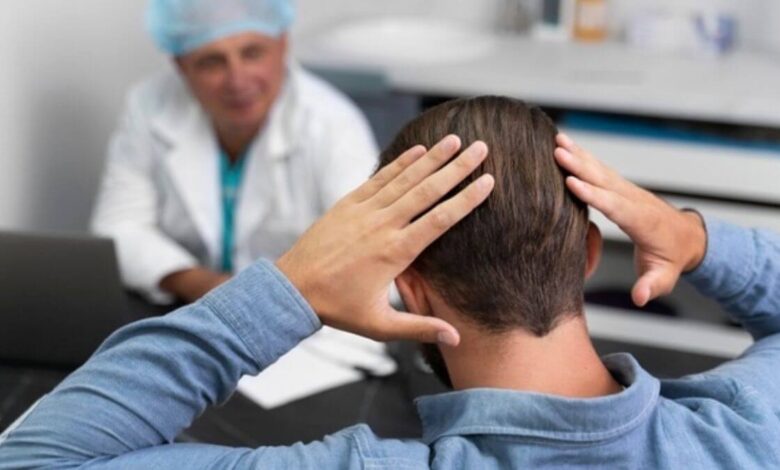 Hair loss in men has become an extremely serious topic these days. Balding chances among men has been increasing year by year due to the changes in lifestyle, work, genetics, and other reasons. Not everyone sheds a patch at once. It depends on every different individual how they start hair thinning. It happens to women too, men are not alone in this. So, do not worry, this article is not to scare you. We have brought to you a list of solutions on how to prevent hair loss for men.
How To Stop Hair Shedding Naturally
Mild Shampoo
Use shampoo free of sulphate and parabens. Wash hair regularly using a mild shampoo so that that the hair is not sweaty and oily. However, shampooing hair using a product with strong scents and chemicals is not good for hair. They will leave your scalp and hair dry that can lead to dandruff and breakage. Choosing the right hair wash for your hair type is very important.
Hair Loss Supplements
Vitamin E regulates blood circulation while Vitamin B (Biotin) will maintain the protein that gives the hair its healthy colour. Fish oil or Omega 3 fatty acids induce hair growth by activating the hair follicles in the scalp.
Vitamin A deficiency sometimes is also the main cause of hair loss. The right amount of Vitamin A in diet or as a supplement can be taken to induce healthy sebum and hair growth.
Also Read: Health Promoting Benefits of Ginger Powder
Vitamin C is an antioxidant that fights the free toxic radicals in the body. It helps to reduce stress this way. It is an efficient supplement for all over human health.
Iron also increases blood circulation in the body. Zinc helps in tissue development and repair.
Protein-Rich Diet
Hair is made of protein. Such deficiency could obviously lead to hair loss. You must increase protein consumption in your diet. Food items like beef, fish, lean meat, tofu, soy products, lentils, and such other items are natural and direct protein sources. It is a safe way to find out how to prevent balding in men and women.
Massaging Scalp
Massaging the scalp increases blood circulation in the brain. Let the oxygen flow to the brain. You can use essential oils to massage the scalp. One of the best oils known for hair growth is castor oil. Try coconut oil, olive oil, and castor oil for amazing results.
Brush Hair Properly
First of all, avoid brushing wet hair. When hair is wet, it is weak. The chances of hair fall increase. Use fingers to detangle hair gently. Brush hair twice a day at maximum. Brushing is good for blood flow. However, frequent brushing also affects the hair roots and scalp damage. When you brush hair, do not pull it off. Comb very gently to prevent balding.
Keep Hydrated
Water is key to almost all health problems we face. Keep yourself hydrated with the amount of water you should take in according to your age and weight. It will maintain hair growth.
Reduce Alcohol and Smoking
Intoxication is good for nothing when it comes to your health. Smoking reduces blood flow to the brain. Alcohol also lessens hair growth. If you want to know how to control hair fall while you are drinking and smoking, you must reduce their intake gradually to see the positive effects.
Exercise
Any kind of physical activity helps the body in detoxification. Even for half an hour, any kind of physical activity is good for health meanwhile reducing stress.
Meditate
Meditation is the best way to de-stress. While you are de-stressing yourself mentally and physically, you are also working on balancing your hormone levels.
Avoid Heating
Too much blow-drying using hot air is harmful. It weakens the hair and makes hair brittle. If you want to know how to stop hair thinning, it is best to let the hair dry in the natural air.
Use Safe Styling Techniques
If you shed hair, quit using hair wax, hair colours and other harsh chemicals on hair. Along with that, try to reduce braiding and tying hair if you have long hair.
Medication Control
If you are on certain medications, hair thinning could be one of the side effects. Talk to your doctor if you face such issues with your ongoing medicines.
Medical Conditions
Certain medical conditions like thyroid, diabetes, anaemia, etc., could lead to balding. Getting the treatment at the right time is necessary.
Hair Loss Treatments: How to Stop Hair Fall Immediately
These are the two most successful hair loss treatments for men:
Hair Transplant
Laser Treatment
[
Cautionary note:
 In all of the above cases please consult a practicing specialist & get checked before taking any medicines.]
Disclaimer: This article is only written for informational purposes only. Users must not view the content as medical advice in any way. Users are also required to 'NOT SELF MEDICATE' and always consult a practicing specialist before taking any medicines or undergoing any treatment. DivyaAyushCare and the author will not be responsible for any act or omission by the User arising from the User's interpretation of the content.